Product Description
Multilingual marketplaces are becoming the next final move for even small to medium businesses. Do you know why?
Today, around 75% of internet communities use their native language to communicate and perform other online activities. It simply means that if your marketplace is still only in English, you're losing some of your profits and that could be huge!
You have easy options to turn your single language store into a multilingual marketplace, while you're using WooCommerce. There are some facts you need to consider before and after making your move.
In this article, we are going to show you how to develop the WooCommerce multilingual marketplace with a detailed guideline. If you're using Dokan (The most popular WooCommerce multivendor marketplace builder), it's easier to make your job done. Let's start with this basic fact.
Do You Really Need a Multilingual Site?
More than nine out of 10 businesses surveyed across eight countries prefer to purchase products that have been adapted to local language and market needs –Commonsenseadvisory
It's simple that if you want to increase the store's visibility and sales, you should develop a multilingual site. To become global, a multilingual site is a key.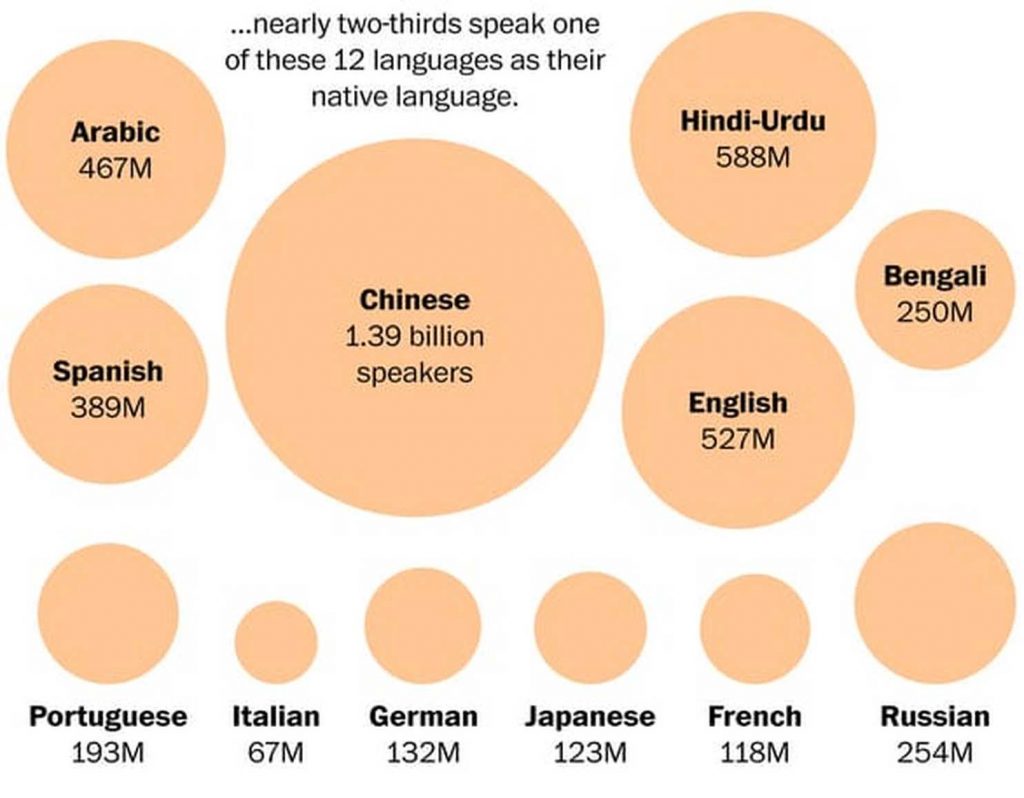 More language means more visitors, more engagements, more sales, and more profits. A multilingual store has a lot of benefits. But, if you're running a store with limited products targeting a local audience, this isn't the right time to create a multilingual store. Consider these facts to make a wise decision.
Are you already getting International traffic?
Where do the majority of your sales come from?
Do you have enough support tickets from foreign/global customers?
Are you ready to manage essential formalities related to sales like taxation or shipping?
Will you be able to offer a quality experience to all?…
You can easily find and measure necessary data using Google analytics (Check Audience- language and location field) or a solution like WooCommerce conversion tracking. Also, as a marketplace owner, you may already have a clear idea about your customers, and options to get notified about their activities.
You can understand your needs and measure your capabilities better than anyone. Without a clear vision and enough preparation, building a WooCommerce multilingual store could be a waste of time, money, and efforts. Online business today is all about data and smartness. So be smart while making a big decision and try to rely only on actual data.
What Would You Get Creating a WooCommerce Multilingual Store?
A multilingual store can serve you in many ways. Check some core benefits of a WooCommerce multilingual store.
A Door to Becoming Global
Primary condition for global citizenship
To easily understand the perspectives of your customers
Best way to truly communicate and reach a common understanding
The basis for argumentation and reaching a compromise
Better SEO Advantage
Google will start indexing your additional languages as separate content and this helps a lot in terms of SEO
Search engines read all the versions of your store as the same site
You can deliver the contents to the native language which is already set by your visitors on their browsers.
Opportunity to target more regions precisely.
Better User Experience
A multilingual landing page allows users to select their preferred language
Technical possibility to detect the language of your customer's browser and then serve up the website in that language
Trust & Credibility
There is a general acceptance that a company with multiple languages must be global!
With a localized store, clients will appreciate your feeling of their culture.
Providing buying opportunity in their native language is the best way to earn the trust
Overcoming any possible cultural barriers is a massive trust builder
Openness to Customers
Easy way to differentiate you from the competition
When you reach to people in a language that is not your own, the whole world opens up to you!
And Sales!
Sales are the driving force behind any business, you know that. A multilingual store is one of the most effective ways to meet this goal. We mentioned some core advantages of a multilingual store. Now, check some case studies.
Net Media Planet (an online advertising industry) got on average of a 20% increase in conversions.
Kinsta (a premium WordPress hosting provider) saw an 18% increase in overall organic traffic by translating their blog into different languages
Global shoes manufacturing company like Bata Industries built the multilingual site to ensure better user experience.
Still confused?… According to Common Sense Advisory- 75% of Internet users do not make important buying decisions except the product information is in a language they can read or speak! So, what will you do?
Ways to Develop a WooCommerce Multilingual Marketplace
There are different ways and solutions to turn your single language store into a multilingual store or marketplace. We are going to show you four easiest but effective solutions.
WPML: The Best WordPress Multilingual Plugin
WPMLis a premium plugin- designed to easily create a WordPress site in several languages. Its default install is available in over 40 languages. Moreover, you have options to add a new language using its language editor. WPML's pricing started at $29 for blogs and $79 for CMS.
How to Configure WPML?
WPML has four components.
WPML Multilingual CMS (the core plugin)
String Translation
Translation Management
Media Translation
When you first activate WPML, you will see a setup wizard to specify the essential settings. Follow the wizard to-
Set the default language
Add additional languages
Specify where to display language switchers
Register WPML
When you are done, your site is now ready to translate content in any language you want. In this step, you should know that there are two different ways to translate your content using WPML. Go ahead to explore the translation process.
Translate Your Content Using Translation Management
Quality is the main thing you should consider while translating your contents. With WPML, You can manage your translation works using the Translation Management Add-on.
Go to the Translation Dashboard
Select the topics
Now, select translations options
Finally, click on the button- Add selected content to translation basket.
See the steps in below screenshot.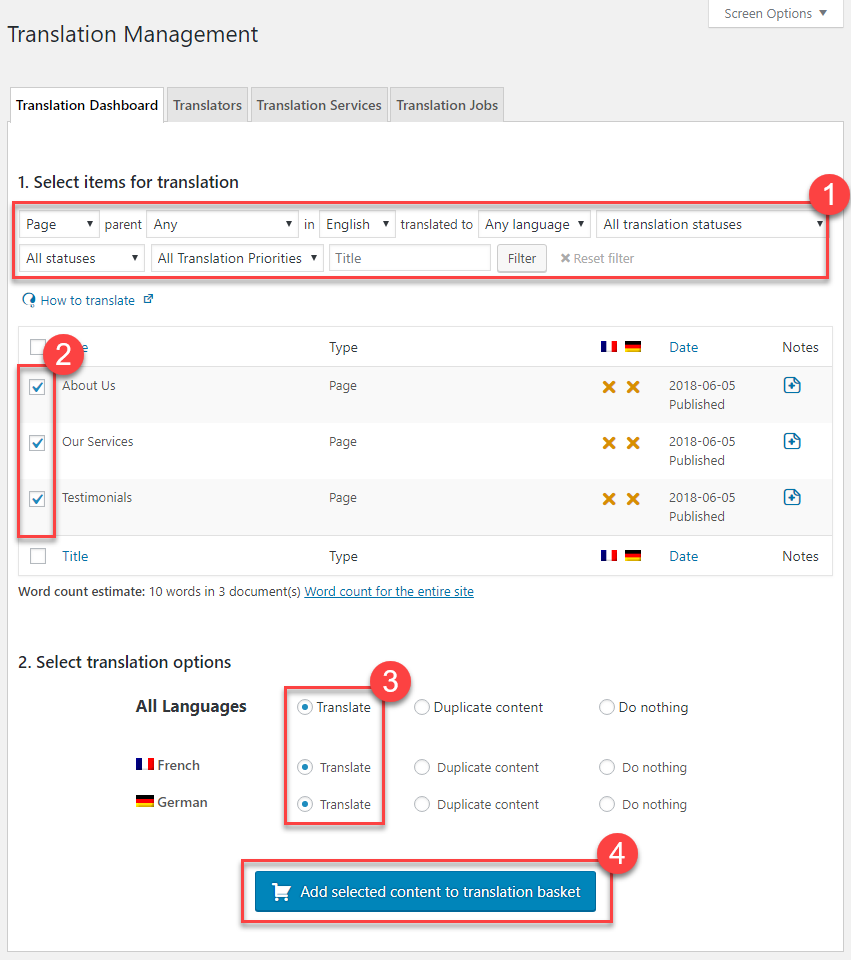 Need more help? Click to see the complete process. This add-on will help you sending contents for translation, checking quality and updates etc.
Content Translating by Yourself
If you are the only person to translate your store's content, you don't need to use Translation Management. Use the icons like plus & pencil etc. from your dashboard to easily translate and update. See the icons.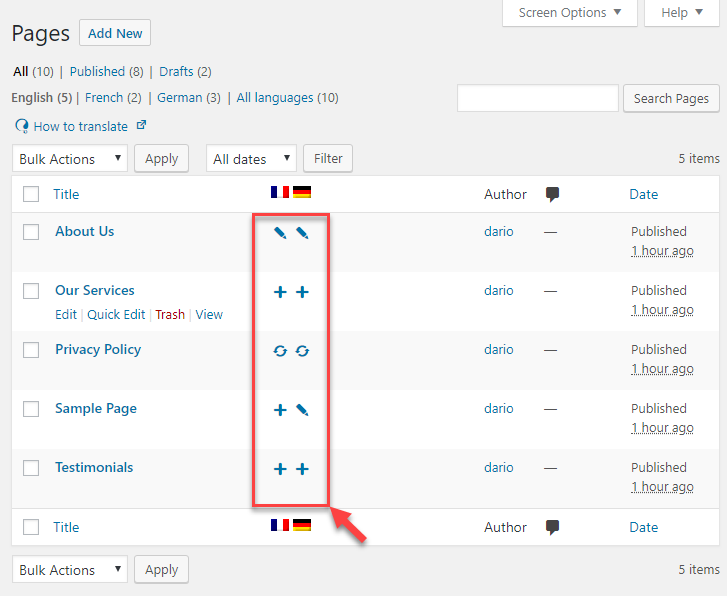 Pencil Icon means your content is already translated. Plus icon means this is still on the waiting list. Check WPML documentation to learn more. You can see and check your translation queue with WPML to translate necessary contents and ensure real-time updates.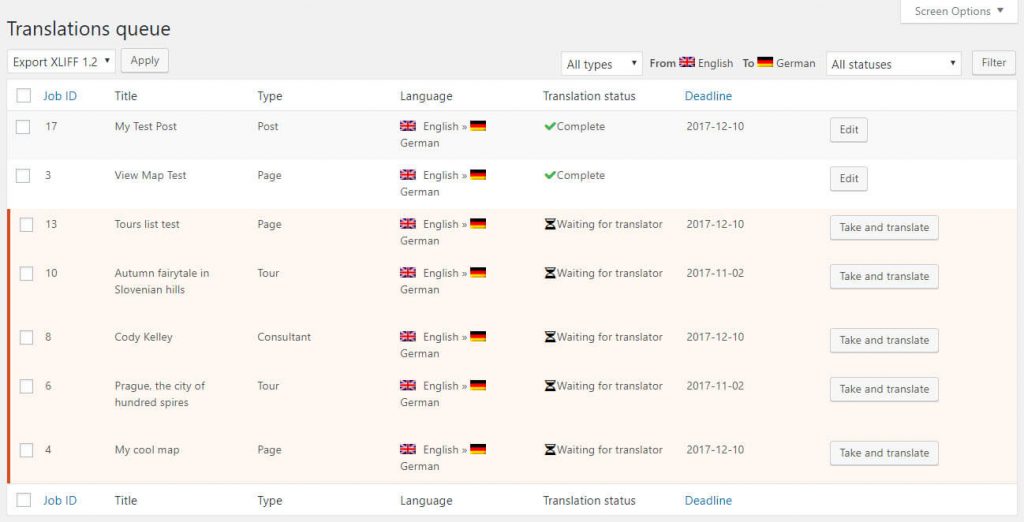 WPML is one of the best WordPress language translation plugins to help you develop and manage a multilingual store.
WooCommerce Multilingual Plugin & Why to Add This to WPML?
WooCommerce Multilingual is a dedicated plugin for WooCommerce product translation management created by WPML developers.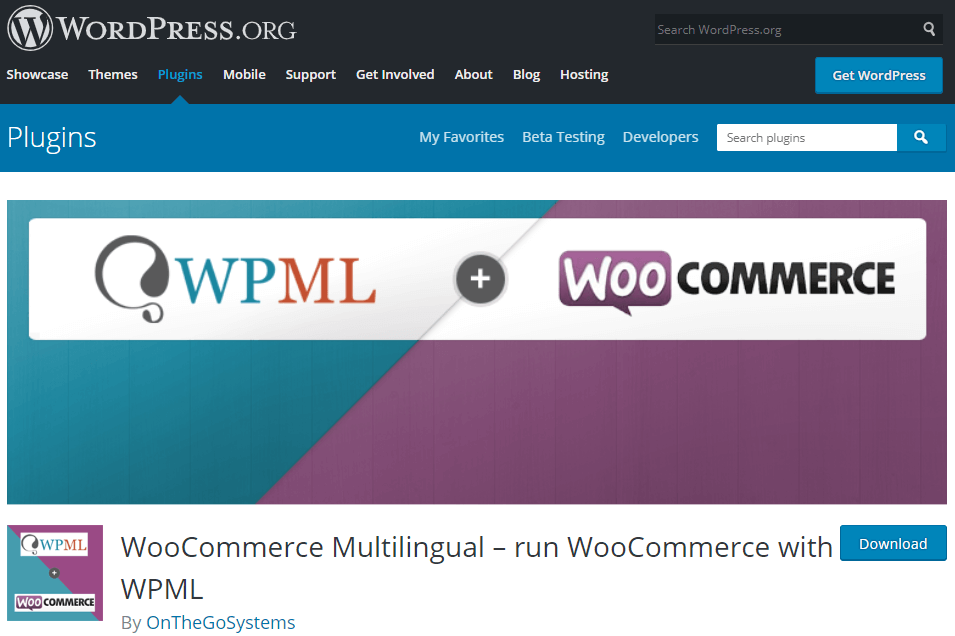 You need to install the WooCommerce Multilingual plugin to ensure full support for your WooCommerce multilingual store. WooCommerce Multilingual is the customized solution for the multilingual eCommerce WordPress site based on WooCommerce.
Fields Where the Plugin Will Help You
You can easily handle all your product-related information using this WooCommerce multilingual plugin. It includes-
Single product information
Product category translations
Translating product tag
Product attributes (like- bag or weight etc)
To ensure the best practices of WPML, Check WPML's Official documentation.